---
Jedit4.0 is deprecated.
Recommended to use Jedit X for Mac OS X 10.3 or later.
Re-built from scratch in Cocoa. Supports Universal Binary.
Jedit X

---
---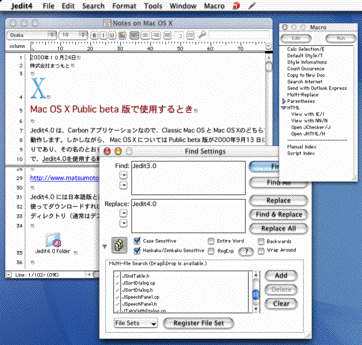 In 1995, Jedit was developed to add an editor function to our telecom software product "Jterm." The beta version, 1.x, was provided as freeware to Japanese Macintosh users through online and won several prizes.
In November 1997, we released version 2.0. This version offered easy operation, macro functions, AppleScript, and compatibility with MacOS 8. Jedit 2.0 was shipped as shareware and become the popular application for tens of thousands of Japanese Macintosh users.
In April 1999, we released version 3.0. It supports many features for multi-media age, multi-font, multi-style and multi-color, multiple Undo/Redo, ability to import sounds, images, QuickTime files, QuickDraw 3D files and file aliases.
Our newest Jedit4.0 supports Mac OS X, the new and innovative OS. While maintaining its simplicity, version 4.0 is a completely new editor that offers faster operation, along with an entire set of powerfull features, as follows:
Compatibility with Mac OS X. Jedit4.0 runs under Classic OS and Mac OS X Aqua interface.
Supports Paragraph ruler. You can specify the indent, alignment and line space for each paragraph.
Supports Tool bar in the document window. You can change the font, character size and color, alignment with one action.
Supports Print preview. Other printing functions were also highly improved.
Supports more powerful searching functions, searching by the file name, the multi-regular expressions etc.
Offers an easier, more powerful user interface. The translucent drag & drop, window proxy icon, direct dropping of JPEG, GIF, PNG files and so on.
Supports data processing functions. Sorting, reversing and deletion the redundant paragraphs.
Supports new AppleScript classes of style run, picture, sound, movie, aliasFile.
Other improvements more than 60 were also conducted.
---
Download
---
If you are the first time user of Jedit4.0, please download the full set version.
Mac OS X version supports the multi-language (English and Japanese).
If you wish to download the Japanese version, please click here (Jananese version).
For Mac OS 8.5-9.2, please download the non-Carbon Jedit below.

non-Carbon "Jedit4.0 For Classic OS" Rev4.2.3


Full Set Version

(2.0MB)
MacBinary Format
(2.8MB)
BinHex Format

Update Version

(0.6MB)
MacBinary Format
(0.8MB)
BinHex Format

For Mac OS X, please download the Carbonized Jedit below.

Carbonized "Jedit4.0 For Mac OS X" Rev4.2.3
Runs on Mac OS X 10.2 (Jaguar), 10.3 (Panther) or 10.4 (Tiger).
NOT on on Mac OS X 10.5 (Leopard). Use Jedit X for Leopard.



Full Set Version

(2.3MB)

Update Version

(0.9MB)
The following is the latest Jedit4.0 Manual in PDF format.

Jedit4.0 Manual [3/26/2003 English version]

(1.9MB)
MacBinary Format
---
Jedit4.0 Related Products
---
Following products will be very useful when you use them with Jedit4.0.


| | | |
| --- | --- | --- |
| | JChecker | HTML Editor and Checker. You can call JChecker from the "Word Services" menu of your Jedit. |
| | JeditCM.plugin | Contextual Menu Plugin which enables to open selected files using Jedit or JChecker. Supports for OS X and Classic OS |
| | JHTML1.0 | HTML templates pulg-in for Jedit4.0. You can insert various HTML tags into your document with a single action or through a special wizard. |
| | SaveAsHTML1.0 | An AppleScript macro for Jedit4.0. It converts and saves the Jedit document as HTML format. |
| | MacroCollection | Useful 10 Macros containing "Find with Style", "Compare Documents", "Kanji Sort", "Save Image As" and others. |
| | JMultiReplace1.0 | "Multi-replace plug-in for Jedit4.0. You can find and replace the multipule sets of strings at once. |
| | JLAA1.0 | An accelerator for Jedit4.0 start-up. |
---
Online Registration
---
Jedit4.0 is a shareware. If you are still using Jedit4.0 after a trial period of twenty days, please register. The registration fee is US$25 per user.


You can also register the software either by FAX or airmail. For more, please read the file "Registration" in the "Jedit4.0 Folder".
---
If you have any question, please email us.
Artman21 User Support section.
email:support@artman21.co.jp.
TEL/FAX:81-466-24-1028
16-11, Minami Fujisawa, Fujisawa, Kanagawa, Japan 251-0055