Multi-Replace Plug-in For Jedit
JMultiReplace 1.0

---
JMultiReplace 1.0 For Jedit4.0/3.0 Rev$B#1(B.0.8 (04.03.2001 Released)

---
"JMultiReplace 1.0" is a plug-in application for the text editor "Jedit". Using this plug-in, you can find and replace the multiple sets of strings at once.
"JMultiReplace" is written in AppleScrit using "FaceSpan3.5" (Degital Technology International).
JMultiReplace 1.0 is Freeware.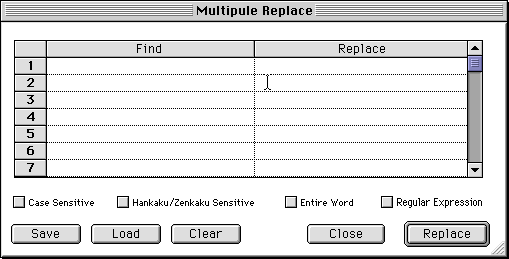 ---
System Requirement
---
System: MacOS 7.5 or higher. MacOS8.1 or higher are recommended.
As JMultiReplace is a Fat Binary Application, it works on both 68K Macintosh and Power Macintosh.
The text editor "Jedit" is needed.
---
Download
---
You can download the program and manual from the following.
For Jedit3.0: JMultiReplace108E3.sea.hqx : 816KB

For Jedit4.0: JMultiReplace108E4.sea.hqx : 816KB
---
Revision History
---
04.03.2001 Rev1.0.8. Fixed a bug that the preference file is sometimes destroyed.

01.29.2001 Rev1.0.7. Supports for the resize-able dialog..

12.25.2000

Supports the version for Jedit4.0.

3.24.2000 Rec1.0.6

Fixed a bug that JMultiReplace does not start and hang-up when it is invoked from the macro menu "Multi-Replace" of Jedit.

3.23.2000 Rec1.0.5

Revised to clear the undo buffer after each replacing. This will prevent Jedit to fall into memory overflow. For clearing the undo buffer, Jedit Rev3.0.4 or later is needed.
Revised to save the search condition onto the file "JMultiReplace.pref" in the Preference folder when the program terminates. The last search condition will be restored at the next start up.

9.27.99 Rev1.0.4. The program does not quit automatically after the searching.

9.06.99 Rev1.0.3. The following bug was fixed.
Just after you push the "Replace" or "Cancel" button, the program sometimes freezes.
8.20.99 The first English Version JMultiReplace1.0.2.
4.05.99 The first version of JMultiReplace1.01 (Japanese Version only).
---
If you have any question, please email us.
Artman21 User Support section.
email:support@artman21.co.jp.
TEL/FAX:81-466-24-1028
16-11, Minami Fujisawa, Fujisawa, Kanagawa, Japan 251-0055