❏ Jedit X Rev.2 has finished selling...

As Jedit X is a 32bit application, macOS10.14 (Mojave) will be the last macOS on which Jedit X can work.
<<Note>> On macOS 10.14.1 or later, the mouse pointer is not shown in the editing area. You can't use Jedit X on macOS10.14.1 or later.
❏ Use Jedit Ω for macOS X 10.14.1 or later

Jedit X has re-born into an entirely new editor Jedit Ω. All functions were reviewed and refined. It supports the latest macOS features such as iCloud, Version Control, Auto Saving, etc.
To suppress the Jedit Ω upgrade alert that are shown every 10 days, set the option "Check for updates every 10 days" to OFF in the Preferences "Gerenral>Advanced."
--------------------------------------------------------------------------
Yet Another Super TextEdit for plain and rich text

Jedit X is the result of re-building the software entirely from scratch in Cocoa to best take advantage OS X's capabilities.
Supports tabbed window, File Drawer, non-contiguous layout, rectangular paste, word completion, smart index menu, smart quote, smart separation between Japanese and English, smart URL link and more. 
Jedit has been around for more than 16 years, and it is continually being updated and improved.  Jedit is one of the most popular text editors in Japan. The first version of Jedit was released in 1995 for Japanese Mac users. Jedit has won numerous awards in Japan. 
      1995    FSP Free Software Prize 
      1997    UGC Freeware/Shareware Award 
      2000   Mac Fan MVP 2000 Award 
      2001    MacPower/MacPeople Product of the Year
Note: Our Jedit is a native Macintosh application and is totally unrelated to the Java editor "jEdit."
❏ supports new functions of Mac OS X 10.7(Lion)  

Supports the vertical text layout,  the Inspector Bar, the Full Screen view, the Automatic Relaunch and Japanese text speech.


❏ Removal of Jedit X  Standard/Plus from Mac App Store 
Due to the regulation change of Mac App Store, Jedit X Standard and Jedit X Plus were removed from Mac App Store.  more...
Existing Users of Jedit X Standard can use web versions of Jedit X Rev.2 without the license registration. Users of Jedit X Plus can use web versions of Jedit X Rev.2, JChecker X and JDiff X without the license registration.
❏ Optimized for Mac OS X 10.5 Leopard/10.6 Snow Leopard

Supports Leopard features: non-contiguous layout, rectangular paste, smart quote, smart URL link, Find indicator, OpenDocument documents, Word2007 documents and more.Supports Snow Leopards features: automatic spelling correction, smart dashes, data detector, automatic text replacement and more.Runs on Mac OS X 10.4(Tiger),  10.5(Leopard) and 10.6(Snow Leopa


❏ Universal Binary

 Runs natively both on PowerPC and Intel-based Macintoshes.
❏ Plug-ins that make Jedit X more powerful

JeditAnywhere : Enables to edit the selected text in mailers, browsers, word processors or other applications with Jedit X in one action.


JDiff X : A document comparison plug-in that displays the changes made in Jedit X documents.


JChecker X : HTML editing plug-in that enables HTML validation, auto-correction for errors, URL link checking, beautifying source codes and others.

❏ Easy-to-use  Tabbed Window  
You can edit multiple documents in one window. You don't lose your documents any more in the sea of overlapping windows. The tabbed editing of Jedit X supports rich functions, such as drag & drop for tabs, tab to window transformation by double-clicking and more.

❏ Open documents with a single action 
You can browse and open files directly from File Drawer without using Finder or File Open Dialog. It supports outline listing, sort functions, extraction filter, browsing history, context menu and otherts.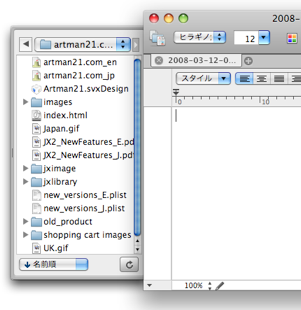 ❏ Edit multi-mega bytes files without stress  
Supports the non-contiguous layout of Mac OS X 10.5(Leopard) which enables to open/edit multimega-byte files without stress.
❏  Customizable Word/Code Completion 

 ❏ Smart Index Menu  
The index lists, such as function list or the chapter/section list, are displayed at the Smart Index popup menu in the toolbar. The extraction rules that generates the indexes are fully customizable and defined with regular expressions.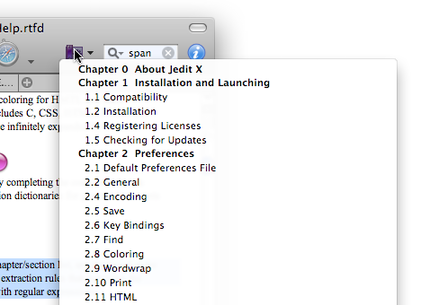 ❏ Unicode-Based Multi-language Support
Jedit X is based on Unicode, which allows the same document to contain multiple character sets, including right-to-left languages like Arabic. This also provides an excellent environment for editing Unicode based documents such as XML or XHTML.
 ❏ OpenType Hiragino Support, with Over 20,000 Characters
Jedit X supports the Hiragino typeface and its 20,000 characters contained in JIS X0213 (JIS 3&4).
 ❏ Sleek Aqua Interface
Jedit X makes full use of Mac OS X's Aqua for a simple, elegant user interface, such as sheets, drawers, customizable toolbars, etc.

❏ Plays Well with Other Cocoa Applications
Jedit X is highly interactive with other Cocoa programs. For example, pasting from Safari to Jedit X carries over formatting, image and even link information.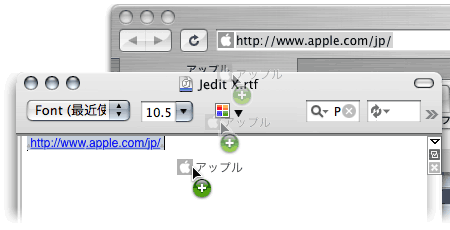 ❏ Utilizes Cocoa's NSTextView Text Engine
Jedit X makes use of Cocoa's built-in NSTextView text engine, which provides high-performance text-editing features like back tabs, center tabs, kerning, ligature, superscript, and subscript. Jedit X also offers its own capabilities, including line numbering, invisible character display, custom word wrapping, split windows, and more.
❏ Supports a Wide Array of Document Types
Jedit X can read Plain Text, Rich Text Format (RTF), Rich Text Format Directory (RTFD), MS Word, OpenDocument, Jedit 4, and SimpleText documents. It can also write Plain Text, RTF, RTFD, MS Word and OpenDocument documents.

❏ Improved Search and Replace
Search and replace has been made even more powerful and easy to use in Jedit X. New capabilities include faster Replace All, a handy search and replace history, internal processing of batch search and replace operations (up to thousands at a time), and search and replace from the Toolbar.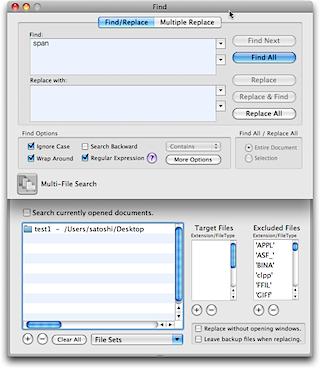 ❏ Powerful Regular Expression Handling
Jedit X uses OniGuruma, the regular expression engine used in the object-oriented language Ruby. This powerful and flexible regular expression engine far surpasses the engine used in 
Jedit4.0.

macappstore://itunes.apple.com/en/app/jedit-x-standard/id405161345?mt=12